On June 22, Steve Lipishak handed over the President's pin, and the reins of Transcona Rotary Club to Jim Trann.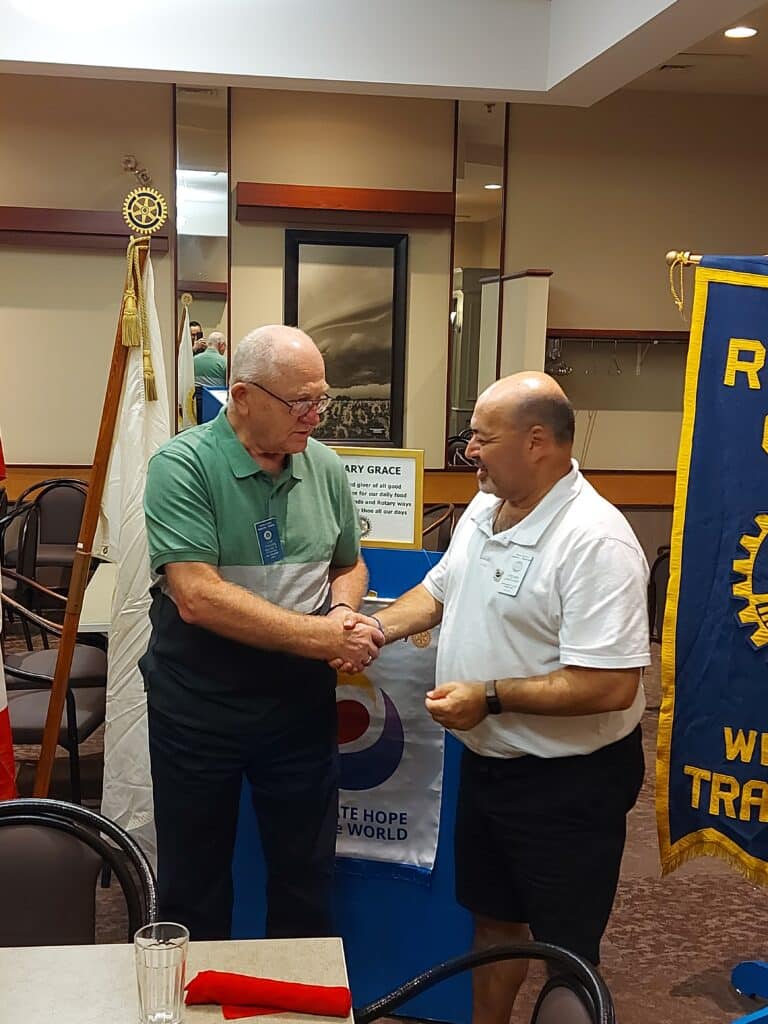 A heartfelt thank you to Steve for bringing us through COVID, well done!
And a heartfelt welcome to Jim Trann, we look forward to your leadership!
On Thursday, December 8, we were able to give back to three Transcona groups this year thanks to all your financial support! Siloam Mission, Transcona Food bank, and Transcona Railer Express were our gracious recipients.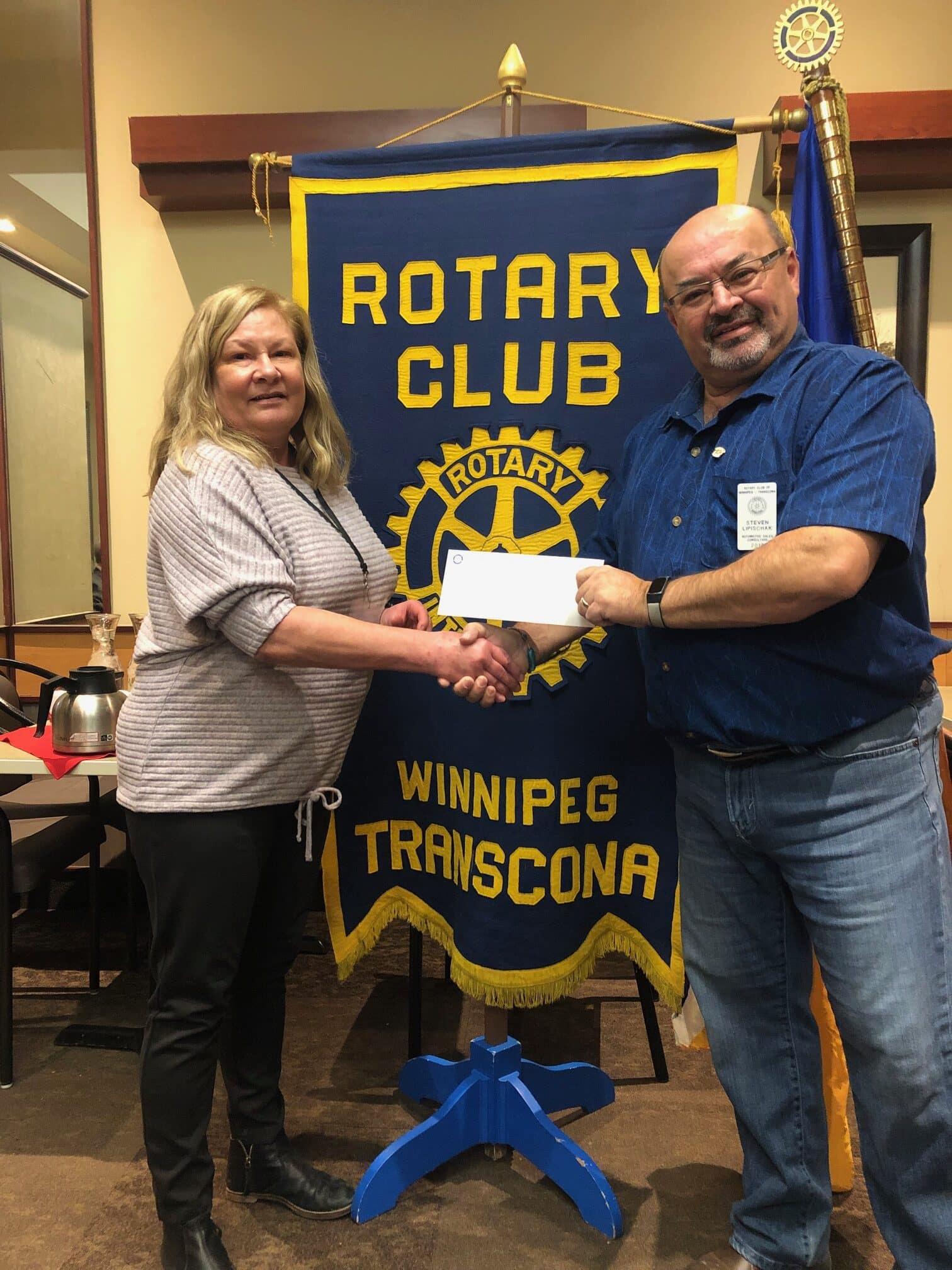 Judy Leimar, Siloam Mission, accepting a donation to help feed the needy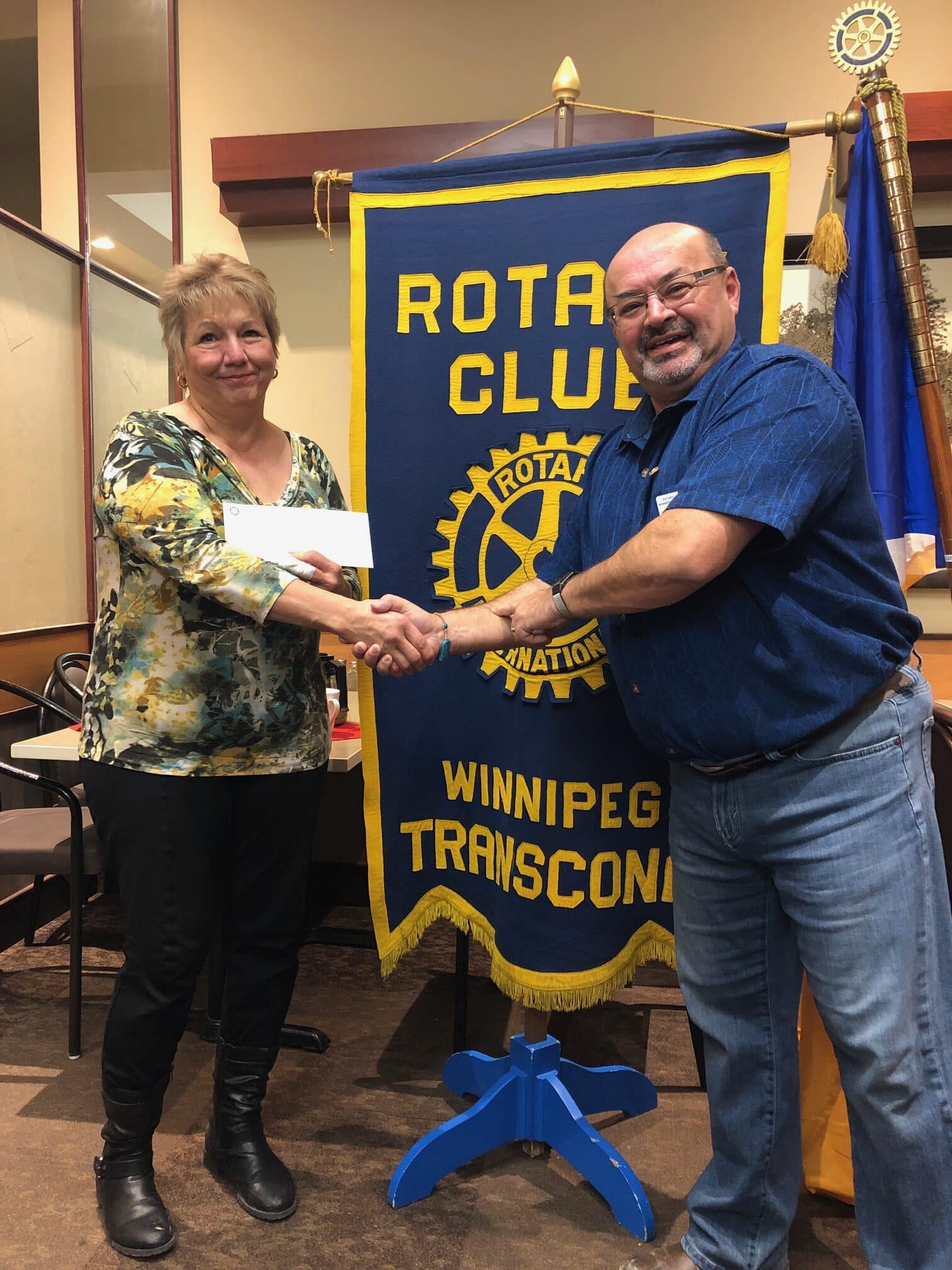 Susan Sebastian, Transcona Food Bank, accepting donation to help Transcona families in need.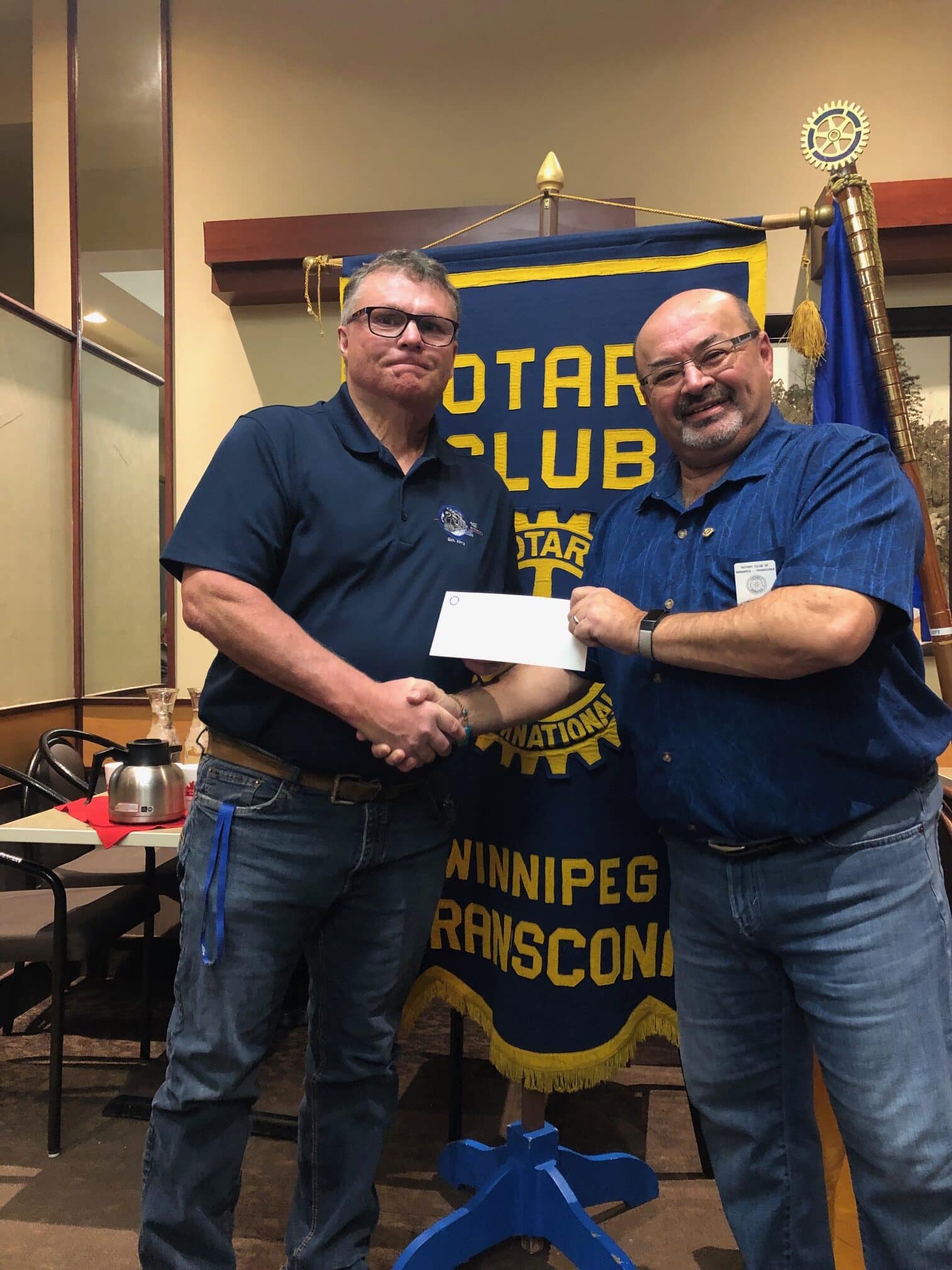 Don Gale, President, Transcona Railer Express accepting donation to their scholarship fund.
Transcona Rotary members will once again be supporting the Salvation Army with our annual Salvation Army Christmas Kettle campaign. Come see us at Kildonan Place Shopping Centre on December 10th from 10:00 to 6:00.
We will be in front of Koya Japan in the Food Court – closest entrance is by Dollarama.
If you have any questions about the campaign, you can find most of your answers here:
https://salvationarmy.ca/christmas-kettles/kettlefaq/
Congratulations to all our winners this year!
By purchasing your Grey Cup raffle tickets from one of our members, you helped us support organizations like the Transcona Food Bank and Siloam Mission, just in time for Christmas. We are also able to continue providing a scholarship for the Transcona Railer Express, a junior hockey team playing in the MMJHL.
Thank you for supporting the Rotary Club of Transcona!
On November 10, 2022, we were pleasently surprised with a few guest speakers at our meeting. They presented what ANCOP is and how it has made such a great difference in so many lives.
Our Rotary club donated in the past to this cause - seeing this presentation is a nice tangible way of seeing where some of your donations go and the fruits they can bear.
Please checkout these links to learn more:
ANCOP 2018 (13:35 min) – www.ancop2018.ca
ANCOP 2018 (7:55 min) - https://www.youtube.com/watch?v=U75jnR67jQk
Last year was sold out too soon .. get your tickets now while they're hot off the press! Contact one of our Rotary members for tickets!
Congratulations to our winners!!
4th place ($100 gift card): Helene Marsh
3rd place ($200 gift card): Brent Nickel
2nd place ($300 gift card): Debbie Mintz
1st place ($400 gift card): Lindsy Jennings
A heartfelt thanks to everyone who supported us! Enjoy your Canada Day!
Spring has sprung and summer is just around the corner! We want to help you celebrate with a chance to win 1 of 4 gift cards from Save on Foods! Only 900 tickets available in total at $10/ticket.Proceeds go to support local Transcona projects!
Click the following link to purchase your tickets online: https://www.fundingchange.ca/rotarytrans.../Yh5weUlwNUgUTyU0
This raffle is only open to residents of Manitoba or those currently within the province of Manitoba. Licensed by Liquor, Gaming & Cannabis Authority of Manitoba, License #: LGCA-8333-RF-37432
Thank you for your generous support and good luck!
Update: We were able to raise over $29,000!!! Thank you so much for your support! And thanks to James Teitsma for the recognition in the legislature! (Video below):
++++++++
Our club recently agreed to help out refugees in Ukraine who are fleeing to Poland by donating to ShelterBox Canada, which is part of Rotary International. So far we have enough for 4 shelter boxes ($1,200 each).
ShelterBox is an international disaster relief organization that hand-delivers aid to families devastated by conflict or natural disaster, to give them safe shelter and the tools to rebuild communities.
To help us even further with this campaign, a club member has graciously agreed to match up to $10,000 that our club is able to raise!
If you are interested in donating, please contact Dr. David Marsh (you can email us at info@nulltransconarotary.ca for contact info).
Thank you for your support!
After much hard work, we have released our promotion video explaining who we are, what we do, both locally and globally.
Check out our new video: