TRANSCONA ROTARY CLUB
COVID-19 update: Ben would like to ask that everyone continue to play it safe, remaining physically distant where possible. We will notify you via email and the website when meetings resume. Remember, this time has come before us and it too shall pass.
Club News
The District Conference is still being held virtually on coming Saturday, May 23rd, 2020! This proves the indomitable resiliance of Rotary. Contact Ben for any questions.
Our annual fundraiser, Cabin Fever Dinner & Auction, which was scheduled for April 17th at CanadInns Transcona, has been postponed due to COVID-19. We have rescheduled for Friday September 25th also at CanadInns Transcona. We ask that if you have already purchased tickets, to maintain those and use on the new date. We are hopeful that this date in September will be a great evening and after months of maintaining social distancing practices a huge and much needed break and success!! Thank you to all for your patience and understanding during these unprecedented times. Be well, be safe.
Recent Achievements
We are proud to welcome our newest member Robert Francis (owner at Prana Pharmacy).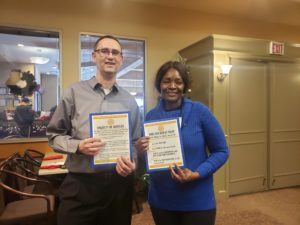 2020 has begun strong with induction of two new members, Mercy Okeke (owner of Chef Restaurant at 510 Sargent Ave) and John Vis, owner of JV Host & Design).
We also welcomed Candace Beauregard (manager at CIBC on Regent) and Constance Oranu
2019 was a very successful year on the international front for water and sanitation in Nigeria. Our funding efforts have contributed to the following achievements internationally:
Water Borehole Drilling Project with catchment reservoirs including taps for Rural Community and Water toilet facilities for schools in South East Nigeria.
Drilling of a hole for potable water for the rural community dwellers.
Click to see our gallery of this project.
On the local front, we were able to continue to support Siloam Mission and the Transcona Food Bank as well as assist in building various parks in the area.
WHAT IS ROTARY AND WHY SHOULD YOU JOIN OUR CLUB?
Rotary International and all of its clubs world wide share one common theme: Service above self. Nowhere is this truer than at the Transcona Rotary.
Rotary is for people who want to give back. Around the world it is a community of professionals who share a common focus of cultural awareness and responsible citizenship.
Each member who joins the Rotary does so for the opportunity to serve their local and global community; for growth and development in ethics, world understanding, equality, and peace; and for the fellowship of like-minded members with a common purpose and goal.

THE WINNIPEG TRANSCONA ROTARY CLUB ACHIEVEMENTS
Community projects

Parks: Centennial and Heritage, upcoming: Waterside Park

Helped by working with them to build it, donations of funds, and knowledge of how to support new parks in the city

Supporting Annual hockey dinner ($1,000 scholarship to Railers)
Scholarships to the local schools (Transcona area & Springfield)
Scholarships to ANCOP for education in Philippines
Contributions to local organizations (L'Arche, etc) .. this includes things like a van for L'Arche Winnipeg
Supporting Shelter box (disaster aid)
Supporting of youth (RYLA)

International projects:

2019 water project
Supplying water and sanitation to school (2016) - contributed financially towards this major project in Nigeria, with grants from Rotary International and Rotary district 5550
INTERNATIONAL ASSISTANCE FROM TRANSCONA ROTARY
Helping with the global eradication of Polio
Supports and works with Shelter Box Canada
Funding and aid in producing water wells for communities in Ghana and India, and irrigation systems in Africa
Funded an entire health care unit in Belize
Built a preschool in Guatamala
Provided funding for furnishing and supplies for a Village School in the Philippines
If you are interested in joining the Transcona Rotary Club, please email info@

null

transconarotary.ca